The Weekend's Work.....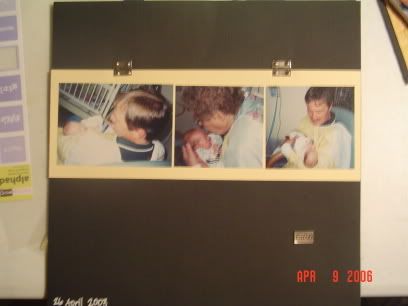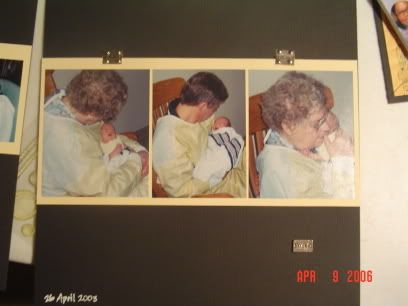 these are identical layouts, save the pictures, since different people were holding the respective kids. the silver charm on the bottom right says "faith" and the inside journaling reads: "My dear Erin and Griffin, your Great-Grandma Rayls and Grandpa Rayls are some of the most faithful people I have ever met. When you were born so very early and so very sick, they got on the phone and told everyone they knew to pray for your both. They have worked so hard to pass their faith on to their family. They have been so happy and proud of the progress that you both have made in your development. The three hour drive makes it very difficult for them to see you as much as they would like. When you were in the hospital, they didn't get to see you very often. This was the only visit that Great-Grandma was able to make the time you were in the hospital. She was so very happy to see you. A funny thing that happened when she was there was when she went to try and calm another baby down, as they were crying so hard. She seemed very miffed and confused when I told her that people weren't allowed to touch other babies. It was a rule, even if it was hard to explain to her!"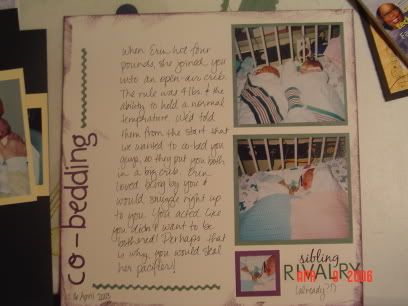 This layout was centered around the stolen pacifier picture and the sticker that reads "Sibling Rivalry". It's very much out of my comfort zone to work with these colors! And it's very limiting to me to start with a sticker and pictures and build a layout around it! The only way I was able to do it was because I have so much freaking stash. Otherwise, it would have been much more difficult. I tried to do a trick I learned in CK, which was to take paper and make "rick-rack" out of it with deco-scissors. It's not perfect, by any means, but it sort of looks like rick-rack! Journaling reads: "When Erin hit four pounds, she joined you into an open-air crib. The rule was 4lbs. and the ability to hold a normal temperature. We'd told them from the start that we wanted to co-bed you guys, so they put you both in a big crib. Erin loved being by you, and would snuggle right up to you. You acted like you didn't want to be bothered! Perhaps that is why you would steal her pacifier!"